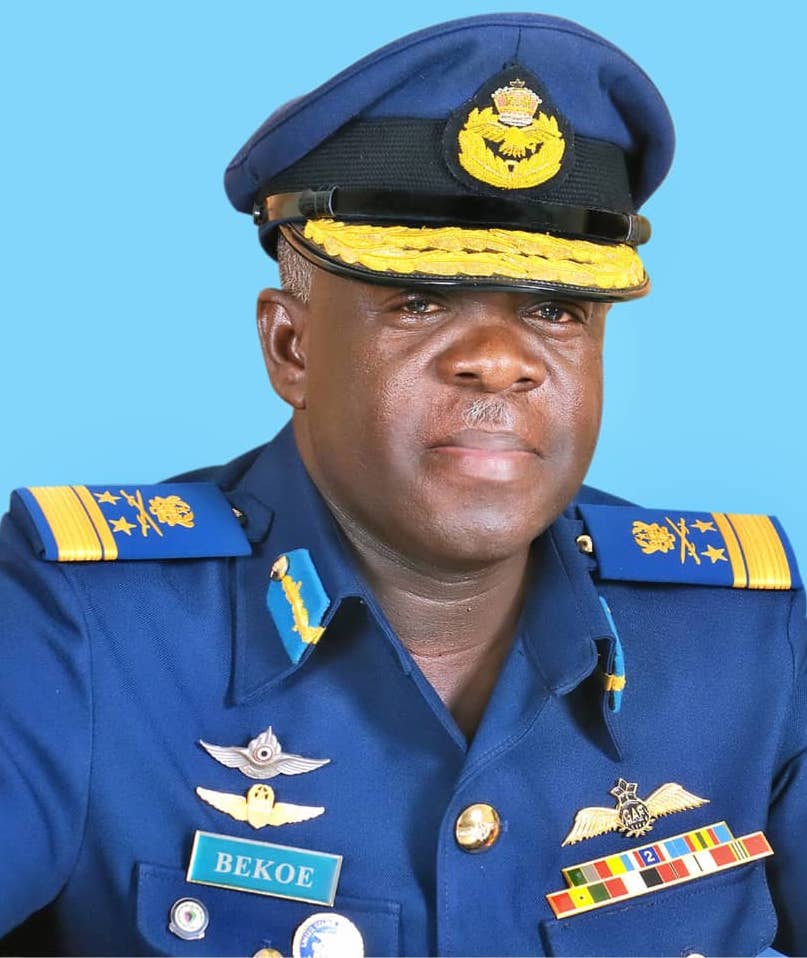 AIR VICE MARSHAL FREDRICK ASARE BEKOE
Air Vice Marshal Frederick Asare Kwasi Bekoe is the Chief of the Air Staff of the Ghana Air Force. Prior to his appointment on 26 January 2023, he was the Air Officer Special Duties at the Jubilee House and was responsible to the Chief of Staff at the Presidency on all matters relating to the Presidential aircraft. Before that appointment, he was the Base Commander of Air Force Base, Accra from January 2016 to January 2019. As Commander of the Base, he administered the Base and responded directly to the Chief of the Air Staff. The Base saw tremendous transformation in all areas including the construction of a magnificent hostel for the School of Trade Training.
Air Vice Marshal Bekoe was born on Sunday 28 May 1967 at Akim Oda in the Eastern Region of Ghana but hails from Tutu-Akwapim.

He had his basic education at Hecta International School at Akim Oda. He later proceeded to St.
John's Grammar Secondary School, Accra in 1985 where he obtained the West Africa Examination Council Certificate (O Level) and continued to Accra Academy where he obtained GCE Advanced Level Certificate (A Level) in 1987.

He enlisted in the Ghana Military Academy, Teshie on 11 November 1988, as a Flight Cadet. After completing the Standard Military Course (SMC) at Teshie, he continued to the Flying Training School (FTS) in Takoradi for Ground School in preparation for flying training. In 1989, he was sent to Libya as part of 10 Cadets for Ab-initio Pilots Training at the Libyan Air Academy in Misurata, where he returned in 1991 as the only qualified pilot from the group and was commissioned among his Intake 30 group as a pilot into the Ghana Air Force on 17 August 1990. On his return from Libya in 1991, he joined a group of 9 pilot trainees to Pegasus Flight Center in Forthworth, Texas as the first pilots in the Ghana Air Force to be trained in the United States, where he obtained his Commercial Pilot License with Instrument Rating in May 1992. It is also worth mentioning that till date he remains the only serving officer from that group of pilots, due to his unwavering patience and loyalty to his country, a trait that is worth emulating.

The AVM was first posted to Air Force Base, Takoradi on 30 October 1992 as a Squadron Pilot at No.1 Squadron. As a Squadron Pilot, he conducted several operational flights on the Defender BN-2T aircraft and mentored other younger pilots posted to the Squadron.

Air Vice Marshal Bekoe has served the Ghana Air Force in various capacities, giving him a sound knowledge of Air Force matters both at the Staff and Operational Levels. He started as a Squadron Adjutant and was later posted as a Flight Commander/Training Officer on 15 November 2001. By dint of hard work and dedication, he became the Squadron Commander of the Executive Transport Squadron (Communications Squadron) at Air Force Base, Accra on 12 June 2004. He then progressed to the position of Officer Commanding Flying Wing at the Air Force Base, Accra from October 2011 to May 2014 when he was selected for Air War College at the Air University, Maxwell Air Force Base in Montgomery, Alabama.

Upon successful return from the Air War College, the AVM was posted to the Air Force Headquarters as the Director Air Operations from 8 June 2015 to 8 January 2016. As Director, he was responsible to the Chief of the Air Staff on all air matters including training and career progression of all pilots, air traffic controllers and aerofiremen. During his tenure, he saw to the successful training of 6 rotary and 6 fixed winged pilots from Ab-initio to Commercial Pilot License as well as 4 flight instructors, 2 each for the rotary and fixed winged Squadrons.

AVM Bekoe is an alumnus of the United States Air Force Air University, Alabama where he obtained a Diploma in Operational Art and Science at the Air Command and Staff College in 2003/2004 and later attended the Air War College from 27 May 2014 to 26 May 2015 graduating with Masters in Strategic Studies. The AVM is a Certified Flight Instructor from Flight Safety International at Vero Beach, Florida, USA and has been instrumental in the training of most pilots in the Ghana Air Force. He has a rich flying experience and holds an Airline Transport Pilot License. Air Vice Marshal Bekoe also flies the Presidential aircraft and has flown 5 Presidents in succession, which shows his professionalism and commitment to his chosen career. He is a Command pilot with over 10,000 flying hours. Operationally, he flies and instructs pilots on the Falcon 900EX EASy, Fokker 28, Fokker 27 and Defender BN-2T. He has also flown the Super Tucano, Piper Seminole, Piper Arrow, Piper Cadet, Baron BE-55, and served as an Instructor Pilot on Cessna 150 / 152 / 172 and the Bulldog aircraft.

In addition to his notable achievements within the Ghana Armed Forces, AVM Bekoe has also made significant contributions to International Peace-keeping efforts. He served as a Military Observer with the United Nations Mission in Liberia (UNMIL) from May 2006 to June 2007. Due to his dexterity, he was assigned additional responsibilitiesas the Operations Officer both at the Team site and Sector Headquarters.

He has also attended numerous courses and seminars including Military Law Course in 1995, Intelligence and Security Course in 1997, Computer Processing Training in 1998, UN Military Observer Course at the International Peace Support Training Center - (IPSTC), Karen, Kenya in 2006, Next Generation of African Leaders Course at the Africa Center for Strategic Studies – (ACSS) in Washington DC in 2009, Fokker 28 Recurrent Training in Dinard, France in March 2010 and Falcon 900EX Easy Type Rating at CAE (UK) in 2010.

Air Vice Marshal Bekoe's awards and decorations include Speed Bird Trophy Award for outstanding flying and airmanship, Best Young Officer Award for outstanding military discipline, bearing and turn out, Republic Day Medal, June 4th Revolution Day Medal, 31st December Revolution Day Medal, Economic Community of West African States Monitoring Group (ECOMOG) in Liberia Medal, Long Service and Efficiency Medal, UN Mission in Liberia (UNMIL) Medal, 50th Anniversary of Ghana's Independence Medal, and the Ghana Air Force Golden Jubilee Medal.The Air Vice Marshal also received Presidential Commendation from former President Evans Atta Mills for Commitment, Dedication and Display of Professionalism, the then Defence Minister Lt Gen JH Smith also gave him commendation for Outstanding input on a New Executive aircraft acquisition, and again the Chief of Air Staff's Commendation for Exemplary Skills and Professionalism in handling an Inflight emergency.

Air Vice Marshal Fred Bekoe is married to Mrs Rosette Okyere Bekoe and they are blessed with 2 beautiful daughters Frederica and Flora at ages 25 and 22 respectively. In spite of his heavy schedule, he finds time to play chess, which is his passion. He also likes reading novels and enjoys watching documentaries.